Sikh Priest Indian Wedding Greece | Indian Destination Wedding Greece
Indian Wedding in Greece
You are taking a bold step in choosing to have a Sikh Destination Wedding Greece ceremony.  Not everyone in the extended family may be on board, and they may have even questioned your intentions.  What are the common concerns? How can have a Sikh Destination Wedding Greece celebration outside the Gurdwara with care, respect, and reverence"? The answer is simple, YES you can!
For the past 20 years, we have been offering  our Sikh Priest services at hundreds of ceremonies in homes, Gurdwaras, and at unique Indian Wedding Greece locations and other destinations abroad. We are well aware of the fear and conflict created by a few to crush the dreams of thousands of sweet loving couples. We realize the Sikh Wedding is a sacred defining  moment in life. Our  goal is to unite the couple, families, and all attendees in an interactive ceremony, sharing the power of Universal energy and LOVE.
Coming from a unique perspective, we are familiar with the finer details required for the execution of a flawless Indian Destination Wedding Greece ceremony. We have been offering our Sikh Priest Greece services extensively, and respectfully present all the mandatory Sikh Wedding traditions and customs at Destination Sikh Weddings. We have taken a vow to conduct ceremonies with a deeply spiritual, personal, and heart-centered approach and message so the wedding couple can be well informed to overcome the trials and tribulations of marriage, to enjoy a healthy and meaningful union.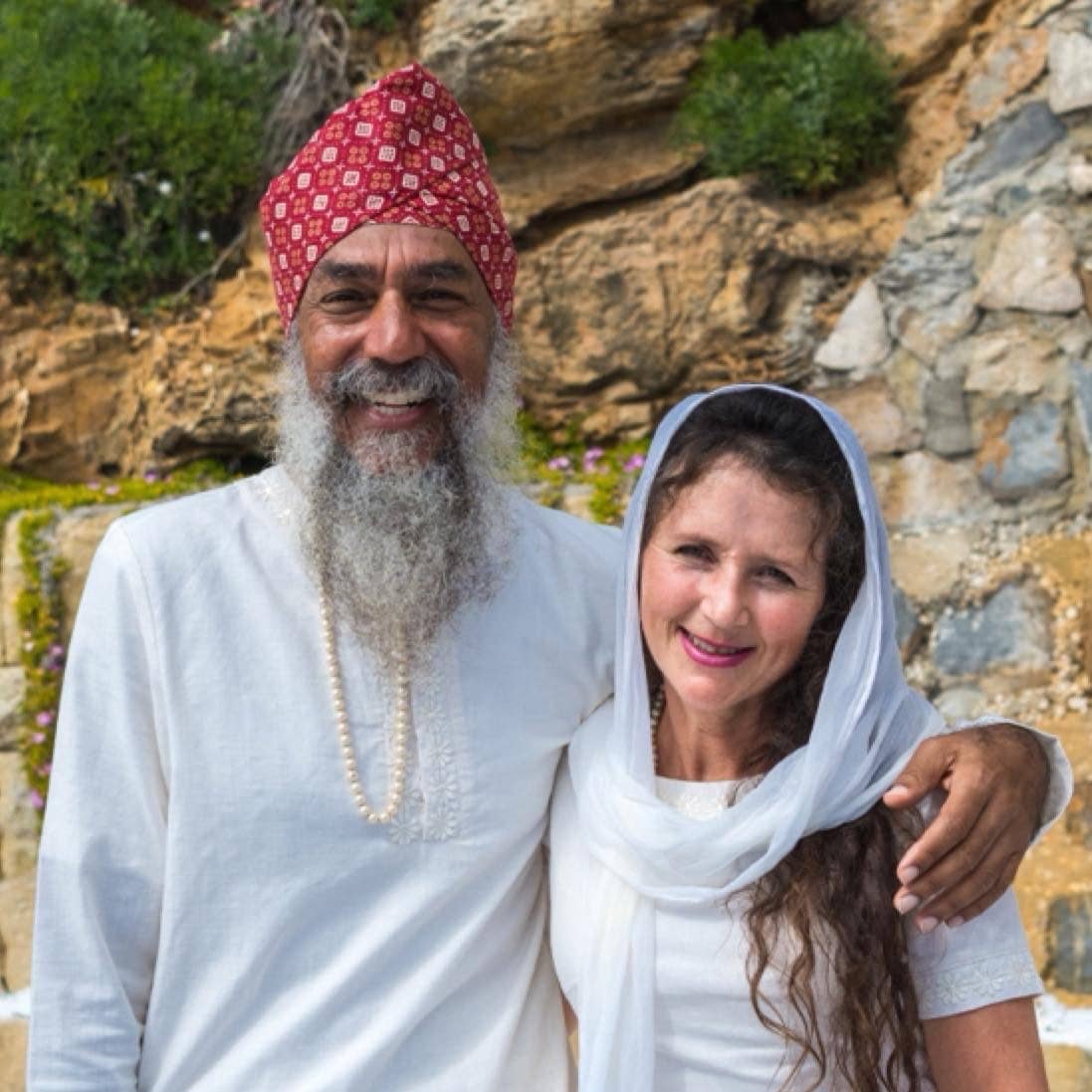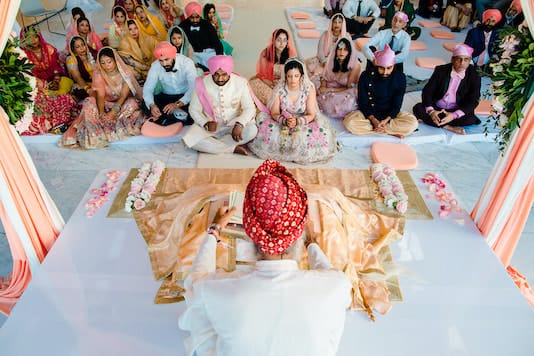 Request a Quote - Agree on Terms - Plan your Ceremony
We have made your Indian Wedding in Greece planning process simple and concise.  As professional destination Sikh Destination Wedding Greece specialists,  we will work out the finer details required to make your Indian Destination Wedding Greece ceremony impeccable.
1. Request a Quote
Please fill out the online form on our Sikh Priest Indian Wedding Greece page for a free quote.  Our booking manager will respond punctually with availability, rates, and a quote based on your ceremony location.  Our travel fees and travel time is included in the quote.
2. Agree on Terms
If upon receiving the quote you wish to book our Sikh Priest Greece, Sikh Wedding Officiant services for your ceremony, you will need to respond with your package choice.  Deposit info will be sent for you to place a deposit, and agreement terms for you to sign which will confirm your booking.
3. Plan your Ceremony
You will receive document files that will assist you, your planner, decor company, and hosting venue to set up your Indian Wedding Greece ceremony with respect and dignity.  This will serve as your guide. As a couple will also have video call(s) with us, your Sikh priest/officiants, months before your special Indian Wedding in Greece so we can become acquainted with each other and to discuss the finer details of your upcoming ceremony.
Indian Destination Wedding Greece  Specialist
All couples have a fundamental right to receive blessings from loved ones and to receive the wisdom and knowledge of the sacred teachings in the Sikh Scriptures at a respectfully prepared ceremony space.
We are a multi-racial Canadian couple in our 60's who travel the world sharing our service with LOVE.  We both have a clear understanding of the dynamics surrounding destination Sikh Weddings, moreover, Indian Wedding in Greece celebrations. Traditional, Cultural, Multi-Racial, and Fusion Weddings all have the common issues, dynamics, and problems that come with planning a destination wedding. We have had the privilege to have sung Kirtan at most Gurudwaras around the world, however  we now share our Sikh Priest services exclusively at weddings outside Gurudwaras, at destinations only.
As a Sikh Indian Wedding Greece specialist, our purpose is to share and create special, meaningful, cultural unions at destinations where everyone is welcome and included. Being caring ambassadors of humanity, we use nature as our fulcrum to maintain a fresh and healthy perspective toward life.
Personalized Service & Support
Personalizing the entire wedding process is our priority. We provide unlimited, pre-wedding guidance and support via emails and video calls. We take great care in giving your ceremony the utmost attention to detail from the initial stages until your wedding day, nothing less.
A complete detailed wedding document with precise specs and images are provided to the couple to forward to your decor company to ensure a proper and respectful ceremony space set up. Also, a ceremony checklist and sound requirement files are provided to ensure that nothing is overlooked during the planning stages.
Rehearsal Meeting & Personalized Presentation
We will have a rehearsal meeting a day before your Indian Wedding Greece ceremony to run through the ceremony and logistics.
Our presentation is in a bilingual ceremony style, profoundly personalized, meaningful, and spiritual, containing all elements of the Anand Karaj tradition. Your exclusive ceremony will be conducted in a bilingual format, in Punjabi Gurmukhi with discussion and discourse presentation made primarily in understandable practical English.
What is Provided on Ceremony Day
On the ceremony day, we oversee the ceremony space set up for a flawless respectful transformation of the space into a serene and sacred Gurudwara-type ambiance.
We provide our own personal authentic sacred 1,430 page Siri Guru Granth Sahib ji with the utmost reverence. The scriptures are our guide and companion. We do our best to respect, practice, and live with the sacred meaningful message prescribed in these writings.
We provide a beautiful matching rumala, chandoa set, and the manji, chaur and kirpan for blessing the Parshaad. We also provide and set up the instruments and 90% of the sound system for your ceremony. We utilize our own wireless sound system which is connected to onsite powered speakers.
Click 

G

o

o

g

l

e

 icon to Read Reviews!
It was an amazing experience witnessing Dr Freedom Singh and Leela in their element delivering magical moments and articulating all the subtleties so well. I was so impressed by how they engaged the congregation, explaining the spiritual significance of each aspect of the ceremony. I can't wait to work with them again!Love from Drummers Delight
Dr. Freedom Singh and Leela Singh held the most beautiful wedding ceremony I have ever attended. Words cannot express how powerful and touching the experience was. Everyone in attendance felt a sense of inclusion and love.I would highly recommend Dr. Freedom Singh and Leela to anyone considering them, you will not be disappointed.
I just wanted to say thank you once again for the special Sikh ceremony. I have never experienced something as special to this. It was a wonderful experience. I was truly at peace and it was very spiritual. I walked out with a big smile and a happier self. Thank you again 🙏🏻
Michael Duhamel
2022-02-17
I had the joy of filming a Sikh ceremony performed by Freedom and Leela at The Fermenting Cellar in Toronto. As a first time working a Sikh ceremony I was truthfully quite nervous. I wanted to do a good job yet be respectful to the guests, priests and to the scriptures. Freedom and Leela were very warm and helped me get adjusted and even assisted with my headpiece. Their ceremony was so beautiful filled with joy, kindness and laughter. They really know how to create a memorable ceremony and filming it was really enjoyable. The final film turned out so well and a big part was the beautiful ceremony created by Freedom and Leela.
2.1.21 It's been one whole year since Dr. Freedom Singh and Leela conducted our dream wedding ceremony and we still can't stop talking about how blissful and serene it was! Honestly, Dr. Freedom & Leela went above and beyond for everything. They made our non-Sikh friends and family feel so welcomed, guided everyone through every step of the ceremony, and left lasting impressions on our entire wedding guest list in Punjabi, English, and Spanish.They traveled to the Riviera Maya during COVID with smiles on their faces, and filled in all our gaps by coordinating literally every aspect of the ceremony. The rehearsal put me at ease (considering my husband didn't know anything) - it was so stress-free working with them from the day we had our introduction call! They felt like another set of parents to Alonso and I, wanting the best and giving us advice genuinely from their hearts.During the ceremony, Dr. Freedom's words of wisdom struck a chord with every person in the audience, whether they understood him or not. Their presence during the ceremony was everything. My husband's family is Mexican, this was their first and likely only Sikh wedding, and I'm so grateful Dr. Freedom and Leela were there to give them the ultimate Sikh Destination Wedding experience in paradise!P.S. we can still hear the waves of the ocean in the background every time we think about our big day.
Freedom and Leela felt instantly like-family to us, and our ceremony was beautiful, personalized to our energy and connection, and honoring of the generosity of the Giver, the sacredness of the One, and the inclusive and welcoming path and form offered by Guru Ji.Amarit and I met in India in February 2020, but I live in the US and he lives in Malaysia. When we returned home, COVID then closed the world, and we were not able to see one another for nearly 2 years. We applied for his US fiance visa, and while that was pending, travel restrictions were suddenly lifted. With the help of Grace, we were led to find Freedom and Leela and the kind souls, Bob and Jill of AmaTierra (owners of the yoga/retreat and Wellness Center) in Costa Rica, and this ceremony came together with ease and peace. Freedom and Leela's booking manager, Mandeep Kaur, kept us apprised with clear and direct communication every step of the way, so we had peace of mind leading up to the big day as well. We are so thankful for their care.Amarit and I feel extremely fortunate and awed by the beauty of this life. We know the sacred moment of our union was amplified by sharing it with such connected and loving souls as Freedom and Leela, and we thank them for devoting their lives to this seva, which fills a real void and unites longing hearts around the world.
Parthiv Kilachand
2021-10-18
An incredible Priest, philosopher, poet, musician, personalized progressive pundit and entertainer! Beautifully conducted the wedding with a balanced blend of traditions and modernism which kept the couple and the guests enthralled and engaged. Thoroughly enjoyable experience and highly recommend this unique couple and their wonderful operatic renditions of traditional prayers and succinct messages in their "Freedom Agreements" to anyone looking for a wonderful wedding experience!
Dr. Freedom Singh and Leela Singh performed our wedding in Athens, Greece in August 2021. I am Jewish, my wife is Sikh. Dr. Freedom did an incredible job of combining all three cultures into the service.We had booked Freedom and Leela a year prior, but had to push the wedding back a year because of COVID. They were accommodating and willing to travel during a time of extreme unknown in order to give us a one of a kind wedding.Having the rehearsal was especially helpful since I haven't attended many Sikh weddings before. Dr. Freedom and Leela were happy to have video calls with my wife and I prior to the event too, which put our minds at ease for the big day.All of our guests gave such wonderful feedback and praise for the ceremony and are still talking about the ideas and lessons Freedom discussed today.Thank you both so much for this experience that we will cherish for a lifetime.xx, Trevor & Sonia
We were lucky enough to meet and work with Dr. Freedom Singh and Leela a few weeks ago on our beautiful island, Cyprus! Congratulations! You performed a wonderful Sikh ceremony! We truly believe that your presence at Gurj and Jivan's most important day added that extra touch to the enchanted wedding setting we had created!Looking forward to work again with you one day!Lots of love, the "Enchanted Cyprus Flower Lounge" team!
We had such a pleasure meeting and working with Dr. Freedom Singh and Leela for our couple's intercultural and interfaith wedding ceremony. The professionalism and communication the months leading up to the wedding far exceeded our expectations. Dr. Singh and Leela made the guests feel so welcomed and comfortable that guests were still raving about how much they enjoyed the ceremony well after the event. Apsara Event will definitely be recommending the Sikh Preist and Team to our couples. It was truly a joy!